Sayvon Foster
---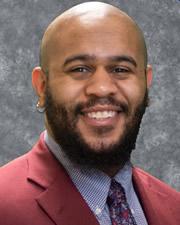 School of Education and Human Sciences, Department of Health, Sport & Exercise Sciences
Biography
—
Sayvon JL Foster, Ph.D. is an Assistant Professor who joined the KU Sport Management faculty in Fall 2022. Prior to joining the faculty at KU, Dr. Foster worked across multiple sectors across the sport industry and higher education. His experiences range from equipment management, to facility operations, sport retail, and fan services. To note, he served as an admissions counselor and career preparation counselor at University of Pittsburgh, as well as a marketing intern and equipment/game day operations personnel for Florida A&M University and Winston-Salem State University, respectively.
Dr. Foster has published scholarship in journals across the field, such as the Sociology of Sport Journal, Journal of Issues in Intercollegiate Athletics, Innovative Higher Education, and the Journal of Athlete Development and Experience. He has also presented research at multiple (inter)national conferences, notably the North American Society for Sport Management, the College Sport Research Institute, and the North American Society for the Sociology of Sport. Outside of teaching and research, Dr. Foster has played an active role on his respective campuses and communities by serving as a first-year student mentor, social justice & campus climate committee member, and SOEHS scholarship committee member. When not on campus, Sayvon is an avid angler who enjoys spending time on the local waters across Kansas and Missouri, exploring and supporting local restaurants with his fiancée, and watching the latest Marvel & DC movies.
Research
—
Dr. Foster's research falls under the broad umbrella of sport sociology operates through the lens of liberation sociology. He aims to promote a more inclusive and equitable sport space for consumers, employees, and participants through his research. He primarily engages with critical frameworks to aid in his work promoting a more equitable and inclusive space within sport, e.g., Black Critical theory, conflict theory, theory of racialized organizations, and liberation sociology. Dr. Foster's research has highlighted the uniqueness and contributions of HBCUs, illuminated the experiences of college athletes, and promoted changes in policy/procedure in intercollegiate athletics. Research Interests:
HBCU Athletics
College Sport Culture
College Athlete Experience & Development
Hegemony in Sport  
Teaching
—
Courses Taught: HSES 380 – Sociology of Sport, HSES 381 – Sport Ethics, HSES 289 – Introduction to Sport Management
Courses in Development: Content Creation in Sport; Sport Retail Management, Athletics & Special Mission Institutions (Graduate)
Selected Publications
—
Foster, S.J.L. (2022). You Gotta Be There: A Thematic Discourse Analysis of the HBCU Sporting Experience. Communication & Sport.
Foster, S.J.L & Singer, J.N. (2022). (BLACK)listed: The College Sport Landscape, HBCUs, and a Theory of Racialized Organizations. Journal of Intercollegiate Sport.
Foster, S.J.L., Singer, J.N., & Cooper, J.N. (2022). A Different World: A BlackCrit Reconceptualization of HBCU Athletics. Sociology of Sport Journal
Foster, S. J. L., & Nite, C. (2022). Bridging the gap: Using college athlete support services as justification for human development in a commercialized sport management. International Journal of Exercise Science, 15(6), pp.
Black, W.L, Ofoegbu, E., Foster, S.J.L. (2021). #TheyareUnited & #TheyWanttoPlay: A Critical Discourse Analysis of College Football Player Social Media Activism. Sociology of Sport Journal.
Strehlow, S., Foster, S.J.L, Fuller, R., Ridpath, D., Fridley, A., Stokowski, S. (2021) Division I College Athletes' Self-Perception: Investigating the Impact of Race and Discrimination. Journal of Athlete Development and Experience.
Foster, S.J.L., Springer, D.L., Harry, M. (2021). "Please bear with me a moment as I write about sports": Addressing the Dearth of Sport Scholarship in Comprehensive, High-Impact Higher Education Journals. Innovative Higher Education. 1-26.